Pricing at Our Urgent Care
At UHealth Jackson Urgent Care, we provide fast, affordable care for everyday illnesses and injuries so you can avoid the wait and expense of a visit to your local ER.
Even better: There's always a board-certified doctor at each of our urgent care centers, so you can be sure you're getting expert care.
To aid with getting the care you need, we accept most major insurance plans, which offer lower copays for urgent care, and have self-pay options too. Our prices are competitive and comparable to other local providers.
We're here to provide the care you need—right now—without breaking the bank.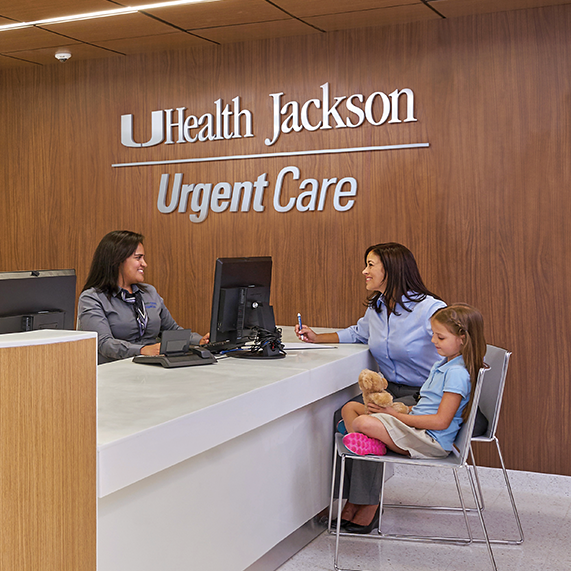 We Accept Most Major Insurance Plans
We accept most major insurance plans, many of which offer lower copays for a visit to an urgent care center, as opposed to a visit to an ER. For information about an insurance not listed here, please call your nearest UHealth Jackson Urgent Care location directly.
Self-Pay
Options
If you don't have insurance, you pay reasonable rates based on the level of care needed. See our price list for all services to the right.

Click here to view our latest discounts and promotions.
Tier 1

$199.00

Physician evaluation
Topical/oral medication
Wound care
Point of care lab tests (tests run in office)

Urinalysis, pregnancy, strep A, flu A & B, mononucleosis, respiratory syncytial virus, bacterial vaginosis, trichomonas, glucose, complete metabolic panel, hemoglobin

Tier 2

$299.00

Physician evaluation
Point of care lab tests
Intramuscular, subcutaneous, nebulized medication
X-rays, splinting, orthopaedic supplies
Electrocardiogram

TIER 3

$399.00

Includes tier 2 plus any procedure below.

Intravenous medication/hydration
Procedures

Wound repair, incision & drainage, ear lavage, joint aspiration/injection, foreign body removal, nail removal
Includes: 1 wound check & suture/staple removal visit

COVID-19 Testing

PCR Test – $150
Antigen Test – $60
Antibody Test – $70

*Click here for latest information on testing requirements before visiting your local UHealth Jackson Urgent Care Center.

STD panel

$299.00

Includes all tests listed below.

Human immunodeficiency virus (HIV)
Syphilis
Hepatitis B & C
Gonorrhea
Chlamydia
Herpes

Physicals

College – $35
Sports – $35 $17*
Sports with EKG – $70 $55*
G-license – $50

*Promotion runs through September 5, 2023.

Vaccines

Tetanus – $50
Standard flu shot (6 months old to 65 years old) – $40 ($0 with insurance)
High dose flu shot (66 years old +) – $70 ($0 with insurance)