When to Visit an Urgent Care Center Vs. ER
It can be difficult to decide whether you can get the care you need at a nearby urgent care center or if you require emergency treatment. We can help you with that decision.
At UHealth Jackson Urgent Care, our teams are experienced in both emergency medicine and providing care for everyday illnesses. We're experts at diagnosing and treating a variety of symptoms, viruses, conditions and minor injuries.
Our goal is to find the right treatment for you so you can start to feel better and heal as quickly as possible.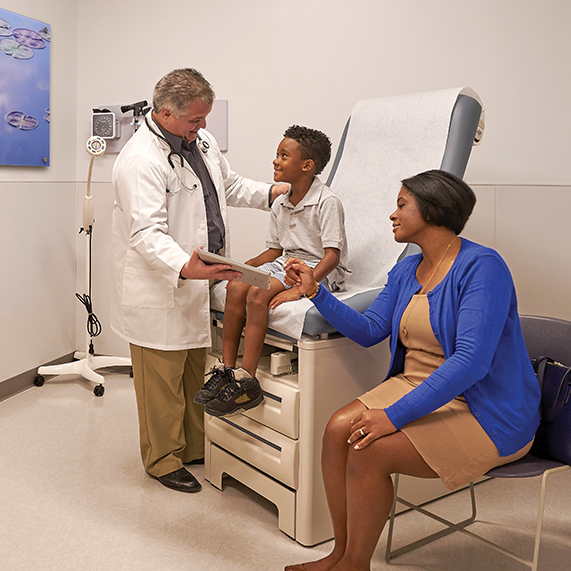 Urgent Care Vs. ER
The chart below can help you decide whether to seek care at your nearest urgent care center or head to a local ER.
UCC
ER

Symptoms

Symptoms
UCC:
Common cold or flu symptoms, cough and congestion

Symptoms
ER:
Signs of a heart attack or stroke, blurred vision, severe stomach pain, loss of consciousness

Fever

Fever
UCC:
Fever below 102 degrees

Fever
ER:
Fever above 102 degrees

Bones

Bones
UCC:
Minor bone fractures

Bones
ER:
Broken bones that have pierced the skin or involve the neck, back, or hip

Allergies

Allergies
UCC:
Minor allergic reaction or rash

Allergies
ER:
Severe allergic reaction

Burns



Injuries

Injuries
UCC:
Sports injuries, sprains or muscle strains, insect and animal bites

Injuries
ER:
Severe head pain or head injury

Cuts

Cuts
UCC:
Minor cuts and wounds

Cuts
ER:
Uncontrollable bleeding

Convenient Care
Walk in to one of five easy-to-find locations—all with plenty of parking—and our teams will strive to have you in-and-out within an hour. No appointment necessary.

A Doctor is Always Available
We are staffed with board-certified physicians who offer world-class, same-day care at all of our urgent care locations.

Experienced Providers You Can Trust
We're Miami-Dade's only urgent care network backed by an academic medical center, with doctors and experienced providers who care about your wellbeing.

Reasonable Rates
We accept most major insurance plans and offer competitive self-pay pricing options. Click here to learn more about the cost of our services and payment options.
Find an Urgent Care